Ho Chi Mihn City Night Clubs - Freelance Escorts(1)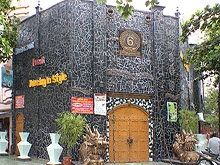 6 Club
Ho Chi Mihn City Freelance Bars(5)
Ho Chi Mihn City KTV Bars(17)
Ho Chi Mihn City Hotels(11)
Ho Chi Mihn City Salons Boom Boom(19)
Ho Chi Mihn City Restaurants Boom Boom(19)
Ho Chi Mihn City SPAs(17)
Ho Chi Mihn City Coffee Shop Blowjobs(8)
Ho Chi Mihn City,
There's a city in the south eastern part of Vietnam that has beautiful blue sky, green trees lining its streets, smooth rivers, an expanse of the sea, adorable climate, amazing architecture, varying cultures and very warm and welcoming people. It is a city that is full of life. This is Ho Chi Mihn City, unofficially uniquely known as the Saigon City. It is a city that offers one diversity, beauty and inclusivity. It offers all that one can require, to have the best moments of their life and connect with the joy of living.
There are pagodas; Phuoc An Hoi Quan, Quan Am and Phung Son, sleek towering skyscrapers; Bitexco Financial Tower and Diamond Plaza, Saigon Notre Dame Basilica, museums, Reunification Palace, Cao Dai temple and Saigon Central Mosque. Looking at these works of beauty and art leaves one mesmerized. Their merging of sleek and modern designs with the ageless marble structures gives the city its ethereal feel. The architecture here collaborates with the landscape therefore transforming Ho Chi Mihn from an ordinary city into a haven of sophistication and style.
The Reunification Palace, Municipal Theatre and Notre Dame Cathedral, War Remnants Museum, Hotel Majestic, Rex and Caravelle hotels are among the most highly visited destination in the city.Tunnels of Cu Chi, which were used during the war are also a huge source of tourist attraction.The dam of Sien Which is a cultural and Tourist Park,Suoi Tien Amusement and Cultural place and The Gio Echo beach resort offers one the spot for recreation and relaxation that one need for recreation.
Rice vermicelli is a typical Vietnamese dish served in quite a maximum number of restaurants in these city. Baba's Kitchen, Cyclo Restaurant, Saffron, Ichiban Sushi Vietnam, Noir, La Villa French Restaurant and Hum Vegetarian Café and Restaurant offer a beautiful setting, extremely delicious food with a cozy feel. There's a meal for everyone, from the vegetarians to the sea food lovers. Everyone has a delicacy waiting to tempt them to heap an extra plate.
Cholon, the Chinatown of Vietnam's, Ho Chi City, offers a wide variety of products to anyone who visits the country. From jewelry, souvenirs, antiques, silks, furniture, authentic cuisines to jades. It allows you to carry home the memories of this great city and thus reconnect with it when magic start to fade.
The Pullman Saigon Centre Hotel, InterContinental Asiana Saigon, Duc Vuong Hotel and Liberty Central Saigon Riverside Hotel offer class, style and relaxation that can only be found in these particular city. With all forms of luxury, everyone is taken care of and given the chance to leave their worries behind and enjoy the wonders of the city.
There is comeliness waiting for everyone that decides to visit Ho Chi Mihn City. Whether it is the nature; the combination of the trees, rivers and the early morning rising sun, or the vibe of the night as the stars take control and the fun begins or the history of the city that reveals so much yet remain a mystery. May the spell of the city bind you and lead you to all its magical places.